Designs & Discounts for Couples!!!!
**********************************
H-Corsets open center front with clasps, for easily taking on and off .
They are made with flexible steel boning.
$187.00-Suede sizes 0-16
sizes 18-24 $223.00 in Suede
$197.00-Top Grain Leather sizes 0-16
sizes 18-24 $263.00
*******************************************************
C-Bod in Croc Embossed
Removable shoulders $233.00
Pouch/with removable strap $97.00
Mens sizes over large will have an up
charge

---

Modular Corsets can be ordered with interchangeable center sections,one corset for all occasions!Prices starting at $243.00, with center sections from $45.00-$80.00
Top Grain Leather-all steel boning variety of colors and textures available
Sizes 16-24 will have an Up charge because of the cost of leather and production time.

---

Corsets can be made to be worn over bust line or under bust, called Cynchers, deduct $30.00 from the "Over Bust" price fro the Under Bust Cut

---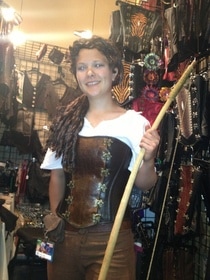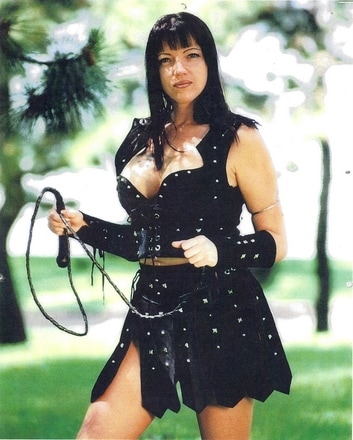 You Can Become a Warrior Princess !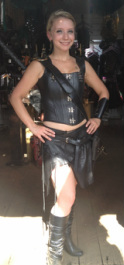 Bodices from $197.00 can also be made with removable shoulders!

Skirts are Deer Skin wrap style for ultimate versatility in sizing
prices vary according to length , additional cost for xl sizes
$137.00 Mini length
$167.00 above knee legth
$187.00 mid calf length
$223.00 ankle length


Zena Style Warrior belts(photo above)
with out studds $133.
with studs $193.00
Massia Style Warrior Skirt(photo below)
with out studs $#147.00
with studs $ 197.00
---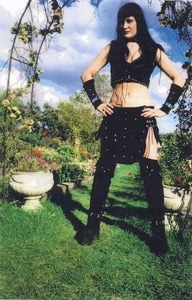 Fitted Bodice with Crop Jacket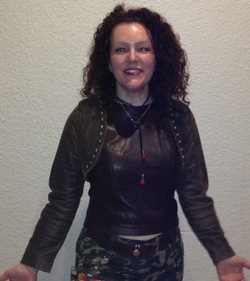 Available in Cow
---
Creative Costuming for Renaissance*Sci Fi* Steam Punk*
Pop Culture*CosPlay*
by Shadia Ouma Bring your Ideas Lets Collaborate to make your Creation Personally Yours,
If You Can Dream It I can Make It
*********************************************************************


Deer Skin Natural Edged Skirts & Vests from $167.00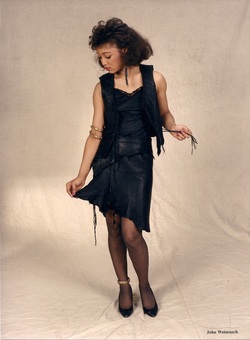 Deer Skin Skirts can be ordered in a variety of lengths from calf length to micro mini!These skirts are wrap around and will fit several sizes in one skirt, each skirt is one of a kind with flowing vines and leaves, flowers stitched to flow into the natural edges.
Deer Skin Bodices and Vests can be ordered in several lengths form below hip to under the bust line(short midriff Gab-Bodice)
The one shown in photo is a standard vest length, many buttons are available from hand cut antler to cast celtic desings!

Prices will vary depending on Lengths and sizes(large sizes cost a bit more for the extra cost of the leather and labor time
Gab Bodice sizes 0-14 $143.00 sizes 16-20 $183.00

Medium size and length Wrap Skirt (WSK) are $167.00
Medium size below knee Wrap Skirt $197.00
Medium Size calf Length skirt $273.00

---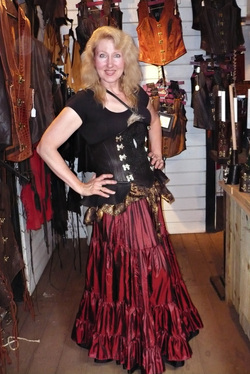 Modular Under Bust Cincher's can be ordered with Interchangeable Center Sections! Which gives you many Cincher in One, for variety's of occasions!
This one shown also has a removable Peplum, which can be ordered in variety of lengths in leather or fabric, the one in this photo has a Stingray Center
Sizes 2-14 $193.00(basic front-no peplum)
Sizes 16-20 $243.00(basic front-no peplum)
Sizes 22-26 $273.00(basic front-no peplum)

Additional cost for embossed imported Italian Leathers and Stingray

Cincher's also come opening in the center from with clasps or Lacing
Size 0-14 $153.00 with clasps
sizes 16-20 $183.00 with clasps
sizes 22-26 $233.00 with clasps
Deduct $30.00 if you want a laced front!!!!

Removable Leather Peplum's in standard length (in photo) $57.00-$97.00
Various lengths
---
Corsets and Cinchers will fit about 2-3 sizes smaller then your standard size, yes they pull you in that much!
Quilted or Appliqued Design Details for corsets available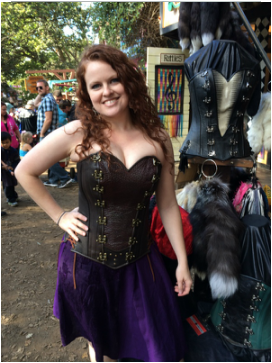 Sweet Heart Modular, order Inter-Changeable Center Panels
,One basic corset to for all occasions
sizes 0-14 $293.00
sizes 16-18 $333.00(these can be ordered with varying degrees of booty flairs, to accommodate larger hips and booty's
sizes 20-24 $363.00
Stingray Centers and $30.00 to price

Order new centers $50 in basic leather
$70 in imported Italian textures
$100 for Stingray
Order 2 or more centers and saved 10%-15%, also saves on the shipping cost of having to ship the corset to fit the new center section to your corset.

---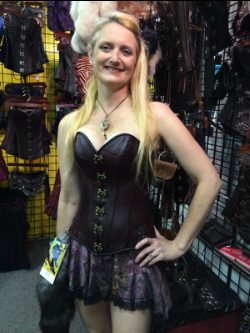 Sweet Heart Corset in basic leather $249.00 Italian Imported Textures used in side sections, $263.00 in sizes 0-14 sizes 16-18 add $30.00 sizes 20-24 add $60.00
Sweet Heart Corset $249.00
All Spiral Steel Boning Double stitched and reinforced
Steam Punk to Reaniassance Bodice---- COSSPLAY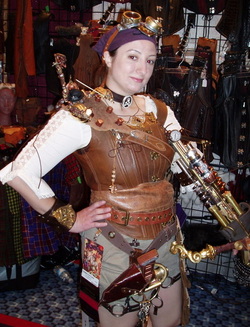 This basic bodice can be accessorized to customize your character for all occasions, or with jeans for street wear
The Ren-Bod has a straighter cut, more Victorian Style
The C-Bodice has a curvy cut and can be order with removable shoulder sections
The H-Corset has the "Hour Glass" cut that is the most flattering to your waistline( C-Bodices are shown in bottom line of Photos)
Prices vary to the kind of leather used and sizes
The suede H-Corset sizes 0-14 $167.00
Top Grain H-Corset sizes 0-14 $188.00
Specialty Leathers add $15.00
The suede H-Corset sizes 16-20 $197.00
Larger then 20 is best to fit with the underbust cincher, since the cup sizes vary so much

H-Corsets can also be ordered with removable shoulder sections !!!!!
---
Gabriela "Gab" Bodice in Deer skin natural edges and Micro Mini wrap skirt, great to layer with leggings for cold weather!
Bodice can be ordered short midriff cut to below waist length
Short Midriff length sizes xs-medium $137.00
Above waist length sizes xs-medium $ 157.00
Below waist length sizes xs-medium $177.00
Below waist length size large $197.00 xlarge $223.00